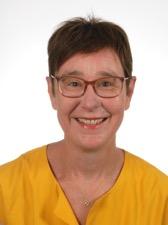 In Jena (Thüringen) verbrachte ich meine ersten 23 Jahre. Mit dem Fall der Mauer erfüllten sich meine Wünsche: Ich ging hinaus, um Europa zu entdecken. Der erste Stopp war Brüssel, wo ich drei Jahre lang als Medizinisch-technische Assistentin arbeitete und gleichzeitig Französisch und Englisch lernte. Anschließend holte ich das Abitur in Aachen nach, um dann an der Universität Heidelberg die Sprachen zu vertiefen. Nach einem einjährigen Aufenthalt in Dublin ging es weiter nach Paris, wo ich mich nicht nur in die Stadt verliebte… Paris wurde neun Jahre unser Zuhause; ich sammelte Erfahrungen im Bereich Öffentlichkeitsarbeit bei der Deutschen Botschaft und bei zwei großen PR-Agenturen.

2007 zogen meine Familie und ich von Paris nach Frankfurt. Diese geschichtsträchtige internationale Metropole hatte mich schon bei Kurzbesuchen immer sehr angezogen.
Mit der Qualifikation zur Gästeführerin 2008, dank vieler Reisen und dem Leben im Ausland, versuche ich Menschen aus aller Welt Frankfurts Historie lebendig zu vermitteln. Ganz wichtig ist mir dabei, dass der Funke meiner Begeisterung auch auf einheimische und internationale Gäste überspringt. Mit vielen Anekdoten und einer lebendigen Erzählweise sollen sich neue Blickwinkel auf diese europäische Stadt eröffnen.
Frankfurt und Europa - Eine Erfolgsgeschichte

Frankfurt gestern & heute
Römer & Kaisersaal
Paulskirche - Geburtsstunde der deutschen Demokratie
Die Frankfurter Altstadt
Architektonische Highlights
Glänzende Zeiten-Die Frankfurter:innen in der Kaiserzeit
30 Jahre deutsche Wiedervereinigung-eine persönliche Zeitreise
Frankfurt als Wirtschafts- und Finanzmetropole
Die Skyline-Story
Ein Spaziergang entlang des Mains
Goethes Frankfurt
Bedeutende FrankfurterInnen
Das Bahnhofsviertel - eine Entdeckungsreise
Kulinarische Führungen
Kritisch konsumieren…Frankfurt als faire Stadt
Campus Westend
Die Prinzen von Hessen im Westend
Das unbekannte Frankfurt
Frankfurt per Pedale
Führungen für Groß & Klein
Schlosshotel Kronberg
Besuch des Europ. Satelliten Kontrollzentrums in Darmstadt
Alzey in Rheinhessen
Nürnberg
I was born in Thuringia, former East Germany and spent my first 23 years there. With the fall of the Berlin wall I was able to realise a long standing wish: to discover the other half of Europe! My first stop was Brussels where I spent 3 years studying French and English while working as a medical laboratory assistant. Then I returned to Germany to complete my A-level in Aachen and went on to study translation at Heidelberg University. I was in Dublin for one year before moving to Paris. There I fell in love with much more than the city and started a family. Paris was our home for nine years and I became passionate about working with the public spending time at the German Embassy and two big Parisian PR Agencies.

In 2007, we moved to Frankfurt. This historically important city had always impressed me during brief visits. I gained my qualification as Frankfurt City Guide in 2008 and thanks to many trips and experiences living abroad I can now show guests from all around the world this wonderful city's history and present day energy. It is really important to me that my enthusiasm for this place and the surrounding area infects my guests. I especially like to take guests to places where little known stories took place so we can share a different viewpoint on this modern, international metropole. I have also expanded further afield to include the Schlosshotel Kronberg, Alzey, Nuremberg as well as the European Space Operations Centre in Darmstadt in my regular portfolio.
Frankfurt & Europe - a success story
Frankfurt yesterday & today
The town hall Römer & the Imperial hall
Paulskiche - German Democracy is born
The rebirth of the old Frankfurt
Frankfurt - Germany's financial heart
Skyline-Story
A walk along the river Main
Johann Wolfgang Goethe & Frankfurt
Frankfurt's famous women
Work & life around the main station
A fair City? (Consumerism in Frankfurt)
The Johann Wolfgang Goethe University
The six Princes of Hesse - a family story
The little known sides of Frankfurt
Frankfurt on a bicycle
Culinary tours
Tours for kids & families
Schlosshotel Kronberg - a royal hotel
A day trip to Alzey in Rheinhesse
The European Space Operation Centre in Darmstadt
A day trip to Nuremberg