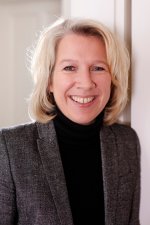 Birgit Jaretz wurde 1966 in der Hansestadt Lübeck geboren. Nach dem Abitur ging sie nach Rom, um Italienisch zu lernen und ein bisschen fremde Kultur zu schnuppern.

Nach einem fünfjährigen Aufenthalt in Marburg zog es sie 1994 nach Frankfurt, um ihre berufliche Karriere beim Suhrkamp Verlag zu starten. Über Stationen als Wirtschaftsjournalistin bei den Nachrichtendiensten Bloomberg und vwd sowie einem Auslandsaufenthalt in New York ist sie seit 2001 als PR-Beraterin für Healthcare-Unternehmen tätig.

Parallel dazu begeistert sie seitdem auch ausländische Gäste für ihre Wahlheimat.
Ihr gefällt an Frankfurt insbesondere die Internationalität, die der flächenmäßig eher kompakten Stadt Metropolencharakter verleiht. Auch das kulturelle Angebot mit dem Museumsufer und der preisgekrönten Frankfurter Oper trägt zu ihrer Liebe für die Stadt bei. Als Kommunikationsexpertin weiß Birgit, wie sie ihre Gäste für Frankfurt erwärmen kann und steckt sie auch gerne mit ihrer Begeisterung an.
Historische Altstadt mit Dom und Kaisersaal
Die neue Altstadt
Die Paulskirche - Wiege der Demokratie
Berühmte Kriminalfälle in Frankfurt
Design made in Frankfurt: Verborgene Schätze aus der Mainmetropole
Weihnachtsmarktrundgang

Begleitung von Journalisten
VIP-Begleitung
Birgit Jaretz was born in the Hanseatic city of Lübeck in 1966. After graduating from high school, she went to Rome to learn Italian and to get a taste of foreign culture.

After a five-year stay in Marburg, she moved to Frankfurt in 1994 to start her professional career at Suhrkamp Verlag. After working as a business journalist for the news services Bloomberg and vwd and a stay abroad in New York, she has been working as a PR consultant for healthcare companies since 2001.

At the same time, she has also been inspiring foreign guests to visit her adopted city.
What she likes about Frankfurt is its internationality, which lends the compact city a metropolitan character. The cultural offerings with the Museumsufer and the award-winning Frankfurt Opera also contribute to her love for the city. As a communications expert, Birgit knows how to warm her guests' hearts for Frankfurt and she also likes to infect them with her enthusiasm.
Historical walks in the old town (including Emperor's Cathedral and Emperor's Hall)
The new old town
Paul's Church - The cradle of democracy
Famous criminal cases in Frankfurt
Design made in Frankfurt: hidden fashion treasures
Christmas Market Tours

Tours for journalists