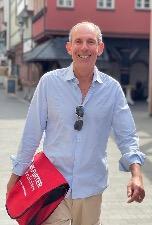 Geburtsort: Frankfurt am Main!

Und als gebürtiger Frankfurter sehe ich mich auch als Botschafter meiner Heimatstadt. Wie könnte ich dieser Botschafter-Tätigkeit besser nachgehen als als Gästeführer?

Frankfurt hat viele Geschichten zu erzählen! Begleiten Sie mich über den Frankfurter Hauptfriedhof, den ehemaligen IG Farben Komplex, auf den Spuren von Rosemarie Nitribitt oder zu bedeutenden Orten der Deutschen Geschichte in Frankfurt.

Ich freue mich auf Sie!
* Die Neue Altstadt
* Hauptfriedhof
* IG Farben
* Jüdisches Frankfurt
* Frankfurt und die Deutsche Geschichte
* Rosemarie Nitribitt
* Historisches Frankfurt
* Europaviertel
* Westend
* Ostend
* Sagen & Legenden
* Frankfurter Stadtgeschichten
* Finanzplatz Frankfurt
* Wallanlagen
* Das Neue Frankfurt
As I was born and raised in Frankfurt, I know the city and all the changes of the last decades very well. I have been working as a guide for the last 5 years and enjoy it very much to show people my town, regardless whether they are tourists, business guests or new Frankfurt citizens!

I am looking forward to meeting you!
* Frankfurt's New Old Town
* Historical Frankfurt
* Jewish Frankfurt
* Tales of the City (entertaining short stories)
* Goethe's time in Frankfurt
* National Assembly at St. Paul's Church
* Holy Roman Empire
* Financial Center Frankfurt
* Frankfurt for newcomers
* Campus Westend and its History
* The Green City Walk