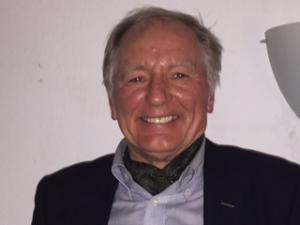 I was born and brought up in Manchester, England and following the completion of my education I moved to Frankfurt in the mid seventies. I worked for a leading American Bank up until early 2016 at which time I completed my examination as a Certified tour guide for the City of Frankfurt.

Since that time I have conducted many, many tours for visitors from all over the globe.

Having travelled extensively in Asia, the Middle East, Africa and North America I have found that this experience assists me now in relating to the requirements and needs of our guests.

I have great affection for this city and attempt on each tour which I conduct to bring that feeling across to our guests.

Frankfurt is a great city, rich in history but also a thriving, modern, dynamic metropolis which continues to change, grow and develop.

I hope to see you on a tour soon.

David
I am a native English speaker and fully qualified to conduct tours of Frankfurt by bus or on foot for individuals or groups.

I have lived and worked in the city for many years, and have comprehensive and thorough knowledge of the city. I have also developed a great affection for the city and am extremely pleased to pass this on to visitors to our city.

Below are some of the subjects on which I can offer tours of the city.


The New Old Town
Escorted Bus Tours
Frankfurt Past and Present
The Saint Pauls Church - The cradle of German Democracy
Frankfurt - Banking and Financial Services Metropolis
The Römer, the Emperors Hall and Portrait Gallery.
The Main River.
IG Farben/Goethe University
Frankfurt - A mager transportation hub.
Culinary Tours.
The inner City green belt.