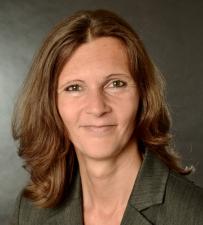 Deutsch, Englisch, Spanisch
Geboren und aufgewachsen bin ich als Kind deutscher Eltern in Buenos Aires. Nach der Schule zog es mich nach Deutschland, wo ich nach einer Hotelfachausbildung in Nürnberg, einem Übersetzerstudium in Heidelberg und weiteren Stationen in Niedersachsen und Hessen schließlich 1998 nach Frankfurt am Main kam.

Nach drei Jahren im Bankensektor und knapp 15 Jahren in der Industrie bin ich 2015 in den universitären Bereich gewechselt. Anfang 2016 habe ich sodann die Ausbildung zur zertifizierten Gästeführerin der Stadt Frankfurt am Main absolviert.

In all diesen Jahren durfte ich die rasante, durchweg positive Entwicklung der Stadt miterleben und bestaunen. Frankfurt am Main ist eine offene, multikulturelle und rundum spannende, vibrierende Stadt.

Mit Begeisterung bringe ich meinen Gästen Frankfurt mit seinen vielseitigen Gesichtern näher. Lassen Sie sich überraschen von den vielen Kontrasten zwischen Altem und Neuem, die das einzigartige Flair dieser Stadt ausmachen.
I was born in Buenos Aires, where I grew up and finished school. After the exams I moved to Germany which was familiar to me already since my parents both are German.

I completed a professional training in the hotel sector, followed by a degree in translation studies, and after collecting some professional experience in different parts of Germany I finally moved to Frankfurt in 1998.

After 3 years in the banking sector and almost 15 in industry I changed to the university area in 2015. Beginning of 2016 I successfully completed the training which allowed me to become a certified guide for the city of Frankfurt.

In the course of all those years I was able to witness the rapid and throughout positive development of the city. Frankfurt am Main is an open-minded, multicultural and vibrant city.

It is with great enthusiasm and excitement that I take my guests around Frankfurt, this city with its many faces, its contrasts between old and new, which make up the unique flair of "Mainhattan".