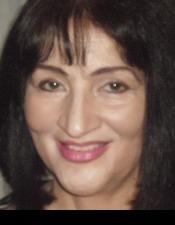 Deutsch, Englisch, Spanisch
Ich bin Xiomara Salas aus Venezuela und bin seit mehr als 20 Jahren Gästeführer von Frankfurt.

Was mich über mein Job fasziniert :

Die Vielfalt von Frankfurt als Stadt der europäischen Alten Welt ist sehr interessant. Als Fremdenführer liebe ich, Leute zu führen und die Gelegenheit zu haben, ihre Augen zu öffnen, damit sie die Geschichte und die Architektur von Frankfurt genießen können.

Die Geschichte muss zum Leben erweckt werden, damit sie die Eigenart ihrer Bewohner kennen,
Um ihnen zu helfen, eine angenehme Zeit während der Tour zu verbringen, immer interagierend und an die Interessen der Gruppe anzupassen. Das ist es, was mich über meinen Job fasziniert
1: Visita Panoramica con autocar. 2,30 horas.

2: Visita Panoramica a pie y con transporte publico. 3,00 horas aprox.

3: Casa de Goethe. 1,30 hora aprox.

4: Visitas a ciudades cercanas, Heidelberg, Maguncia, Rothenburg o.d.T, Coblenza, Rüdesheim, Rheingau,etc.

5: Guia Correo toda Alemania.

6: Asistencia en Ferias internacionales.

7: Incentivos.

8: Asistencia y transfer Aeropuerto de Frankfort.

9: Compras en Frankfort.
The diversity of Frankfurt as a city of the European Old World is very interesting. As a tourist guide I love to guide people,and have the opportunity to open their eyes so that they can enjoy the history and architecture of Frankfurt.

The story must be brought to life, letting them know the idiosyncrasy of its inhabitants,
in order to help them spend a pleasant time during the tour;always interacting and adapting to the interests of the group. That is what fascinates me about my job!

You will be able to see that Frankfurt, compared to the great capitals of the world, is relatively small, but with the flare of an International City.

Frankfurt offers a large variety of cultural amenities, such as Downtown Old Historical area
with it luxurious international boutiques, merged by the Modern Skyscrapers Business and Financial area (Financial Center of Germany).

Also, Malls, its beautiful zoo, museums, ballet performances, theater plays, Opera, classic and pop music concerts, sports events, international gourmet restaurants; some with live music, and many other amenities making it a very dynamic city full of great surprises!

I would love to have the opportunity to be your tourist guide, and make your Frankfurt travel experience unforgettable!