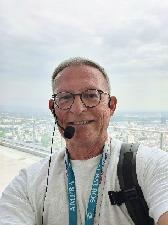 'Collect moments, not things'


Guten Tag!
Schön, dass Sie mein Profil aufgerufen haben!

Ich wurde im Frankfurter Stadtteil Sachsenhausen in der Nähe des Eisernen Stegs geboren und bin sozusagen mit Apfelwein getauft.
In meiner über vierzigjährigen Tätigkeit als Reiseverkehrskaufmann in der Tourismus-und Airlineindustrie habe ich viele Orte der Welt besucht. Jetzt freue ich mich darauf, den Besuchern unserer Stadt Frankfurt /M. diesen kontrastreichen Ort in unterhaltsamen Spaziergängen vorstellen zu dürfen.

Ich bin durch die Tourismus-und Congress GmbH der Stadt Frankfurt am Main ausgebildeter und zertifizierter Gästeführer und Mitglied des Gästeführervereins Frankfurt am Main e. V., sowie Mitglied im Bundesverband der Gästeführer in Deutschland e. V.

Ich arbeite als freiberuflicher Tourguide und als Freelancer für die Tourismus- und Congress GmbH Frankfurt.
Alle Informationen zu den Stadttouren, sowie die aktuellen Preise finden Sie auf meiner Website www.stadttour-frankfurt.de

Bitte kontaktieren Sie mich gerne per Email zu allen weiteren Fragen.
'Collect moments, not things'


Hello, my name is Peter Nething.

I was born in Frankfurt's Sachsenhausen district in the proximity to the 'Iron Bridge', i.e. I am baptized with applewine, the world known beverage of this city.
While I was working for more than forty years in the tourism and airline industry I had the opportunity to visit many foreign places all over the world. I am happy now to stroll with our international visitors through the streets of Frankfurt/M. and present our city to them.

I am a certified guide and working self employed and as a freelancer for several tour operators in Frankfurt, e.g. for Frankfurt Tourism and Congress Company.

Happy to meet you!
All informations about my tours and actual rates can be found on my webpage www.stadttour-frankfurt.de
Please contact me by email for further details.